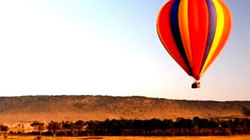 Masai Mara situated in the southwest is Kenya's richest game reserve famous for the abundance of wildlife and the great wildebeest migration.
The panoramic views are breathtaking and a visit is an adventure that you will remember for the rest of your life.
Sarova Mara Game Camp or similar is well positioned to enjoy this unique phenomenon.
Day1: Nairobi – Mara
Arrive at Airkenya's dedicated passenger terminal at Wilson Airport for either the morning or afternoon flight to the Masai Mara.
Upon check in an hour before departure' enjoy a hot cup of coffee at Dormans coffee shop to jump start your day before boarding the flight which takes approximately 45 minutes.
The morning flight departs at 0915hrs while the afternoon flight departs at either 1215hrs or 1515hrs.
Upon arrival at Keekorok airstrip in the Masai Mara you will be met by a camp representative who will transfer you to the Camp which is well positioned in the heart of the Mara hence offering you front seats to nature's most breathtaking views.
For morning and midday arrivals' lunch will be enjoyed at the camp before embarking on the afternoon game drive.
By virtue of its location and layout' one is spoilt for choice as the Camp offers an unparalleled plethora of activities and experiences from bird-watching to unique insight into the Masai culture at the adjoining Maasai village.
Dinner and overnight at lodge or camp.
Day2: Masai Mara
Wake up in pure bliss in the spacious luxurious tents with spectacular views and capture stunning views of the Mara plains at day break.
Today you have the option of either a full day game drive with packed lunch or embark on your early morning game drive to experience the world's greatest wildlife spectacle before settling for a hearty breakfast that is both imaginative and tasteful.
Lunch and another game drive in the late afternoon which promises visitors a profusion of wildlife' prolific bird life and the unprecedented opportunity of catching up with all the members of the big five.
After dinner' relax by the fireplace' enjoy your drink as you delight in the evening African skies.
Day3: Mara – Nairobi
Enjoy an early morning game drive and breakfast before proceeding to Keekorok Airstrip for your flight back to Wilson Airport. If you arrived in the afternoon and opted for return in the afternoon you will enjoy a morning game drive and lunch in the Mara before your afternoon flight back to Wilson.
Upon arrival at Wilson Airport you will be picked by our representative and dropped off at your Hotel or if you have an evening outbound flight then a transfer to the Jomo Kenyatta International Airport will follow marking the end of our memorable safari.